11 05 08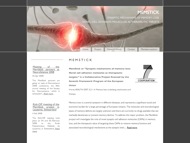 MemStick: SCIPROM's first FP7 project started on 1 Feb 2008!
Amongst one of the very first FP7 projects, MemStick started on 1 Feb 2008 and its web site just went online:
www.memstick.org
.
MemStick or "Synaptic mechanisms of memory loss: Novel cell adhesion molecules as therapeutic targets" is a Collaborative Project financed by the 7th Framework Program of the European Union in the HEALTH priority.
Memory loss is a central symptom in different diseases, and represents a significant social and economic burden for a large percentage of European citizens. The molecular and neurobiological bases of memory deficits are largely unknown and there are currently no drugs available that can markedly decelerate or prevent memory decline. To address this major problem, the MemStick project investigates the role of novel synaptic cell adhesion molecules (CAMs) in memory loss, and the therapeutic value of targeting these CAMs to restore memory function and associated neurobiological mechanisms at the synaptic level.
MemStick, a project coordinated by Carmen Sandi from EPF Lausanne passed the evaluation threshold with a fantastic 15 points out of 15 - we are happy to be part of this great project!
Visit our
Projects
page to learn more about MemStick and our other projects ...